Skarlet leaked ! (j'vois des leaks partout putain d'merde !)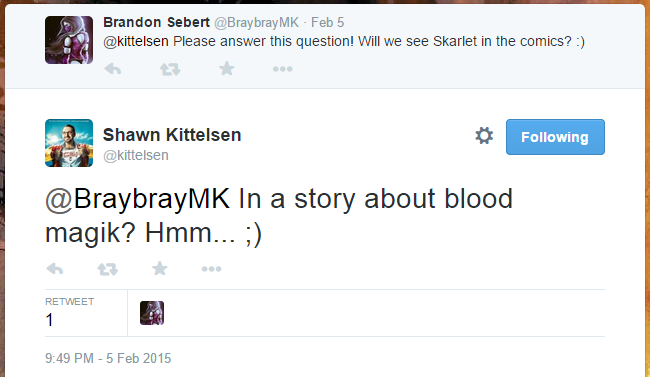 MĂ©dia

Messages: 6720
Inscription: Mer 5 Sep 2012 22:54
Localisation: Paris
ID PS3: FH_FenriR
ID Xbox360: Vae Victis !
ID PS4: FH_FenriR
---
En meme temps ya un truc, mais.... Finalement tous les ninjas ont des kunais... Donc rien ne garantit que ce soit celui de "Mme rouge"...
Cyber némésis...
What did you Rhezpect?
Membre d'honneur

Messages: 2263
Inscription: Mar 24 Juil 2012 08:45
ID PS3: Rhezous
ID PS4: Rhezous
---
Haha sacre saja il voit skarlet de partout
Fondateur

Messages: 8614
Inscription: Mer 18 Juil 2012 16:09
ID PS4: Dr__Jackal
---
Moi je dis que Saja a eu du flaire jusqu'ici, ça me semble effectivement tres credible, de plus je ne vois pas quel autre perso utilise des kunai? Maintenant ça ne veut pas dire qu'elle sera jouable in-game, même si un perso feminin supplémentaire au cast, ne serait pas du luxe! wait&see...
Sbire du Joker
Messages: 116
Inscription: Jeu 14 FĂ©v 2013 21:13
---
+1 RedMonk !
Kotal est donc plus vieux qu'Onaga ?
Onaga ressuscita les guerriers de Raiden morts au combat (Kung Lao, Kitana, Johnny Cage, Jax et Sonya) afin qu'ils deviennent ses serviteurs après avoir vaincu Shang et le Dieu du tonnerre.
Intéressant. Hâte de voir comment le cours du temps a été modifié par Raiden.
Reptile suivant Kotal ne risque pas de s'attirer d'emmerdes avec Nitara et ainsi réveiller l'œuf dragon. Les Shokans veulent revenir dans le jeu par le biais de Mileena, qui n'est pourtant qu'une batarde ? Pour moi elle n'a pas le droit du sang. Bref, Goro doit refaire ses preuves dans le tournois mk on dirait.
Reiko, Reiko, vivement qu'il soit leak ;p Ces apparitions subliminales sont suspectes (et lui aussi veut le trĂ´ne d'Outworld).
La prochaine couverture :
"After last issue's shocking conclusion, Sub-Zero reflects on the path that brought him face-to-face with Scorpion. Meanwhile, Reptile, Kotal Kahn and D'Vorah must stand their ground against the onslaught of King Gorbak and his Shokan army!"
"Après les révélation du dernier numéro, SubZero médite sur ce qui l'a amené à se confronter à Scorpion. Pendant ce temps, Reptile, Kotal et D'Vorah (pas Erron ?) doivent résister contre les assauts du roi Gorbak et son armée de Shokans."
MĂ©dia

Messages: 6720
Inscription: Mer 5 Sep 2012 22:54
Localisation: Paris
ID PS3: FH_FenriR
ID Xbox360: Vae Victis !
ID PS4: FH_FenriR
---
Quelqu'un sait oĂą on peut les trouver ces comics (gratuitement) ?

VF ou VO je m'en moque, je préfèrerais même plutôt la VO.
Rang spécial autorisé
Messages: 2366
Inscription: Jeu 14 FĂ©v 2013 12:02
ID PS3: gingko19130
ID PS4: gingko19130
---
?
Dernière édition par Ptycon le Sam 11 Avr 2015 00:16, édité 1 fois.
Ptycon
---
Rang spécial autorisé
Messages: 2366
Inscription: Jeu 14 FĂ©v 2013 12:02
ID PS3: gingko19130
ID PS4: gingko19130
---
Membre d'honneur

Messages: 4479
Inscription: Lun 23 Juil 2012 20:51
ID PS4: Vodkaaaaaaaa(12a)
---
Membre d'honneur

Messages: 4479
Inscription: Lun 23 Juil 2012 20:51
ID PS4: Vodkaaaaaaaa(12a)
---
---
Retourner vers Histoire Mortal Kombat
Qui est en ligne
Utilisateurs parcourant ce forum: Aucun utilisateur enregistré et 0 invités